05/14/2020... is today.
got it right this time. ms. komeiji isn't really so somber as what i uploaded, but i was running out of time. so, simple colours on black canvas.
i hate her stage, but once you get past that it's cool danmaku.
last month i said i would upload a game, and it's just about done. unfortunately, a very tiny but terrible bug has come up and i haven't gotten to fixing it yet. well, it'll be out eventually.
catcha on the flop side, amigos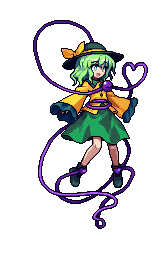 - aeon